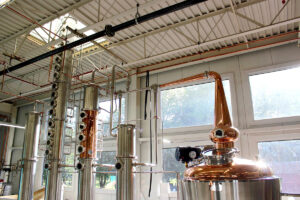 Our Story
Bjorn (aka Peter) and Cassandra had a vision in 2010 to produce high quality artisan spirits here in the Berkshires. 
Bjorn is a lover of the Scottish and Irish whiskys and wanted to make single malt American whisky in the Scottish style, lautering the grains and aging the product over several years to allow for optimal flavor maturation. 
Cassandra is a lover of classic cocktails and wanted to produce liqueurs that would celebrate that tradition. 
From their dreams Silver Bear Distillery was conceived in 2013 and has been slowly but lovingly developed since.  Our first bottle of single malt vodka was sold in July of 2018, with a maple liqueur due to be released in November of 2018. 
Many more are still to come and we hope you will come along on this journey with us.